Author:
speakwithoutavoice
It's a beautiful thing to feel the warmth that comes from a room filled with the people you love. I look around and every face triggers a memory from the past.
In the eyes of my mother I see grandparents no longer with us. In my brother's laugh I hear us soaking up the sun on a Saturday afternoon. In my father's smile I am reminded of an aunt who left us too soon.
In the faces of the ones I love I find the many joys of a life well lived. A warm glow that comes from a room full of grateful hearts.
This time of year has a certain sparkle. It's not the upcoming holidays that put that sparkle in the air for me, it is the joy I feel watching so many people rally around an organization that is so important to me and my family. AALIVE means a lot to a lot of people but I will share a glimpse of what it means to me.
The magic of AALIVE is felt when our community gathers. The mission of sharing smiles through acceptance creates an environment where people can feel celebrated and not judged. I have had the joy of watching the AALIVE community grow and shift over the last 14 years and I am so proud of the work that's been done.
I have so much faith in what the future holds and I am so grateful for all the people who share that faith in AALIVE's mission. I hope you will join us this Friday for our "Aloha Friday" celebration and a glimpse into what makes our community so special.
Head to the AALIVE website for more information on our "Aloha Friday" celebration this Friday, November 12th at 6:30PM!
It was discovered that the couple was stealing blood donations and got caught.
The police had been tracking their whereabouts and managed to get their license plate number from a red light camera. That was all they needed to finally catch them.
When the couple caught wind of the police tracking they tried to wipe out any record of their existence but one detail they forgot to erase was their brief residency at The Regency… my building… Room 4E.
I will never know for sure what I saw that day but my neighbors had a few secrets. And when you lay the details out and investigate I believe one thing for certain… Those strange sounds coming through my paper thin walls were the sounds of one ferocious creature. A creature that sleeps all day and prowls at night, feeds on the blood of humans, and lurks in the shadows.
Yes, I believe I was neighbors with a vampire.
I planned my next visit for Halloween night. I knew I needed to move quickly and quietly. I waited up late and when I heard them leave I planned my break in. They had a key hidden so that part was easy and I knew the halls would be bustling with trick or treaters. What was my plan you ask? To find what the heck was in those refrigerators! I heard them leave around 11 … it was go time.
I got into the apartment without a hitch but something wasn't right. There was no buzzing, in fact there was no anything! The apartment was completely empty.
I panicked! Had I made it all up? I looked around but found nothing. I left and went home. For weeks I wracked my brain for an explanation. Then one day I saw in the paper a mysterious headline …
'Husband and Wife Busted for Underground Blood Operation'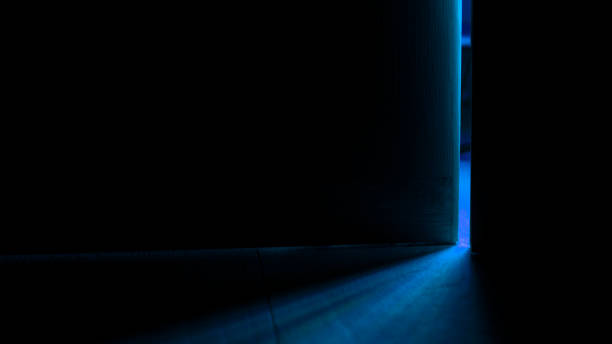 It was the week before Halloween and our building was gearing up for an epic night of trick or treating. I noticed that the new neighbors had yet to attend any of the planning meetings, so I decided to knock up and offer some information. After a few knocks and no answer, I wiggled the door knob and it opened right up…
I know I should have walked away but I needed to know what was happening in Room 4E! 
I took two steps inside and chills ran down my spine. All I could see was a light coming from the kitchen. I Could hear a buzzing and the faint sound of snores. I wanted to hear a buzzing and the faint sound of snores. I wanted to get the hell out of there but I had made it this far and I was just a few steps from the kitchen. As I inched closer the buzzing grew louder. When I turned the corner I was so confused! What was I looking at? A room full of refrigerators! Not normal! I ran out as fast as I could. But I knew that wasn't my last time visiting Room 4E!
There was a strange wailing sound coming from the next room …
In our building the walls are paper thin. I can always tell when Regina is on a Zumba kick or Nelson is up for a midnight snack. 
But this sound was unfamiliar and it was coming from 4E, the new neighbors. They seemed nice enough but something was off. They slept all day and would come and go all night. There was always a cold draft when you walked by their apartment and they were always getting strange deliveries.
Now I'm not one to judge but to live next door and never have locked eyes with these people? Seems a little … spooky. So one night I decided to change that.
This blog began as a way for me to share a bit about my life and my experiences as a non-speaker in a world dominated by speech! I have loved sharing bits and pieces of my unique experience and I hope to continue to do just that. In this week's post I want to open up the lines of communication and find out from my readers what it is they want to know about me!
I appreciate anyone who takes the time to read my posts and I hope they help you embrace other people you may encounter who have differing needs. I hope to be a reminder that we are all so much more alike than we are different!
So, Ask Away!
Do you have a specific example of a song that "makes you smile no matter what kind of day you're having"?
I would say generally that oldies music puts me in a happy mood. More specifically I love 60 and 70's era tunes. There is a feeling in that era of music that relaxes me. To get even more specific I will shout out a favorite of mine. Fleetwood Mac. The Chain. That song has a way of soothing me.
I wish it was possible to bring to life what I see. I would say it is like a dancing fountain, the movements are layered and playful. The colors jump up and down around me. For this song it's soothing in color and it's not overwhelming. I have this bright feeling come over me as the song builds.
In today's blog post, Brian shares with you his reflection on his inaugural blog post "The Story of Me" which he shared in August of 2017.
Four plus years into my journey as a speller I have evolved and adapted in many ways. The time I have spent navigating the world as a non-speaker has led me to encounter amazing communities, advocate for neurodiversity, and grow as a person. I am part of an amazing group of nonspeakers with a mission to change the way autism is perceived.
My story is a reflection of all of the experiences and people I have encountered. It includes the years of silence but is made purposeful in the way I choose to use my voice. In the many twists and turns of my life thus far I stand firm in my belief that we aren't defined by the choices we make and we won't be remembered for any single impact we might have. We will be remembered for how we made people feel.
I share that with you because I have learned the most important lesson I can teach people about being a non-speaker is that I am not so different than you. I want to be made to feel that you see me as an equal.
Now I want to finish by sharing a bit about what makes me, me! I am an advocate but I am also a friend. I like to fight for a meaningful cause but I also love to unwind with a cocktail. There is nothing I value more than family, I live for a sunny day at the beach, and I believe laughter is the secret to a long and happy life … well laughter and vodka. If my words can teach you one thing let it be this … I may be non speaking but my mind can do laps around yours, so do your best to keep up.
The last four years have been a journey of self-discovery but I look forward to all there is to learn on the road ahead.